Latin Vibes – Classic Latin Jazz
Latin Vibes is a quartet that plays Latin jazz.
The music is stimulating, dynamic, sometimes intimate, sensual and always swinging.
Musical interplay and a joy of playing are key words in our music.
The repertoire is our own special mix of jazz standards, show tunes, Latin and rock
classics, all flavored with Sabor – The Latin Feeling!
Morten Grønvad: vibraphone and percussion
Morten Grønvad has played with a wide array of musicians ranging from the Danish Radio Big Band via American jazz stars to Cuban and Brazilian super musicians. MG has appeared on TV and radio in a wide range of programs from X-Factor via MTV Live for participation in the DR Symphony Orchestra. M G is the leader of the jazz-fusion
group THE END
Peter Danstrup: bass
PD has played in many different contexts, e.g. with John Tchicai, Mikkel Nordsø, Svend Asmussen, Link Wray and Jan Kaspersen. In 2012 he received 2 Danish Music Awards: Jazz Composer of the Year and Album of the Year 'Beautiful Untrue Things'
Birger "Krølle" Sulsbrück: congas and bongó
Birger Sulsbrück is the leader of Denmark's first pure salsa band: Salsa Na' Ma and the Latin groups Coco Son and Curly and Cocodrilo. He has played with i.a. Cox Orange, Fuzzy, Blast, the Danish Radio Big Band, the Danish Radio
Symphony Orchestra, Nana Vasconcelos, Bobby Watson, Zakir Hussein, Bob Mintzer, Juan Pablo Torres and Mory Kante.
Ethan Weisgard: timbales and percussion
Ethan Weisgard has played drums in bands such as Buki Yamaz and Cox Orange, and percussion in Palle Mikkelborg's Entrance and the Danish Radio Big Band, together with artists such as Dizzy Gillespie, David Sanborn, Thad Jones, McCoy Tyner and Miles Davis.
Booking
Ethan Weisgard
Christianshavns Voldgade 9D
DK-1424 Copenhagen K
Mobil: +45 4086 3212
E-mail: ethanweisgard@gmail.com

Birger Sulsbrück
I.H. Mundts Vej 15, 1C
2830 Virum
Mobil: +45 4041 0151
E-mail: birgersuls@gmail.com
Information about the musicians:
Each one of us has a long, extensive and interesting backstory in regard to our lives in both music as well as in other areas.
Here are links to our personal homepages where you are able to read more about us.
Morten Grønvad www.ethnotronic.com
Peter Danstrup www.peterdanstrup.com
Birger Sulsbrūck www.birgersulsbruck.com
Ethan Weisgard www.weisgard.com
PR MATERIAL TO DOWNLOAD AND PRINT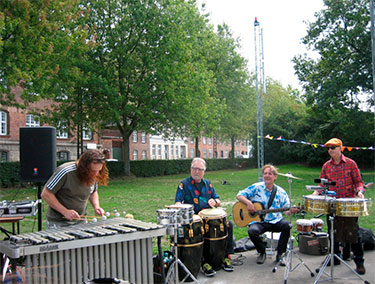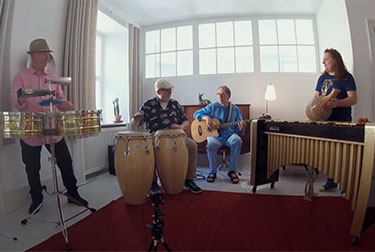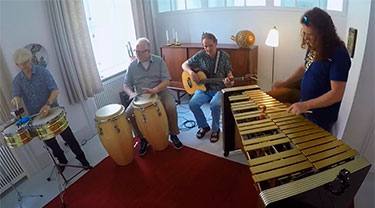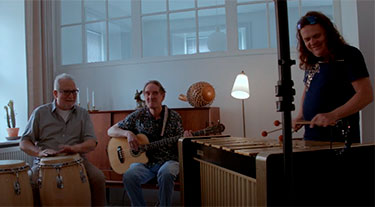 Our history
We all have a long history of playing jazz and latin music both here in Denmark and throughout the world.
We have played together as a quartet for many years, getting together for pop-up concerts all over Copenhagen. The driving force has always been our love for the latin jazz genre, and our love of playing together.
But we wanted more! So Latin Vibes is now a quartet ready to be deployed at any time for your listening and dancing pleasure.
Our mission
Latin jazz Power to the People!
This style of music has the best of it all: beautiful melodies, great arrangements, lots of improvisation, and the hottest rhythms – what's not to like?