Latin Vibes – Classic Latin Jazz
Our music
Our quartet – Latin Vibes – plays classic latin jazz.
The music is inciting, dynamic, sometimes intimate, sensual and always swinging!
Interplay and plain and simple love for the music are key factors for us.
We have chosen our repertoire very carefully – making it our own special blend of jazz standards, show tunes, latin, rock and pop – and all specifically spiced up with Sabor – The Latin Feeling!
Our quartet
Morten Grønvad: vibraphone and percussion
Peter Danstrup: bass
Birger Sulsbrūck: congas
Ethan Weisgard: timbales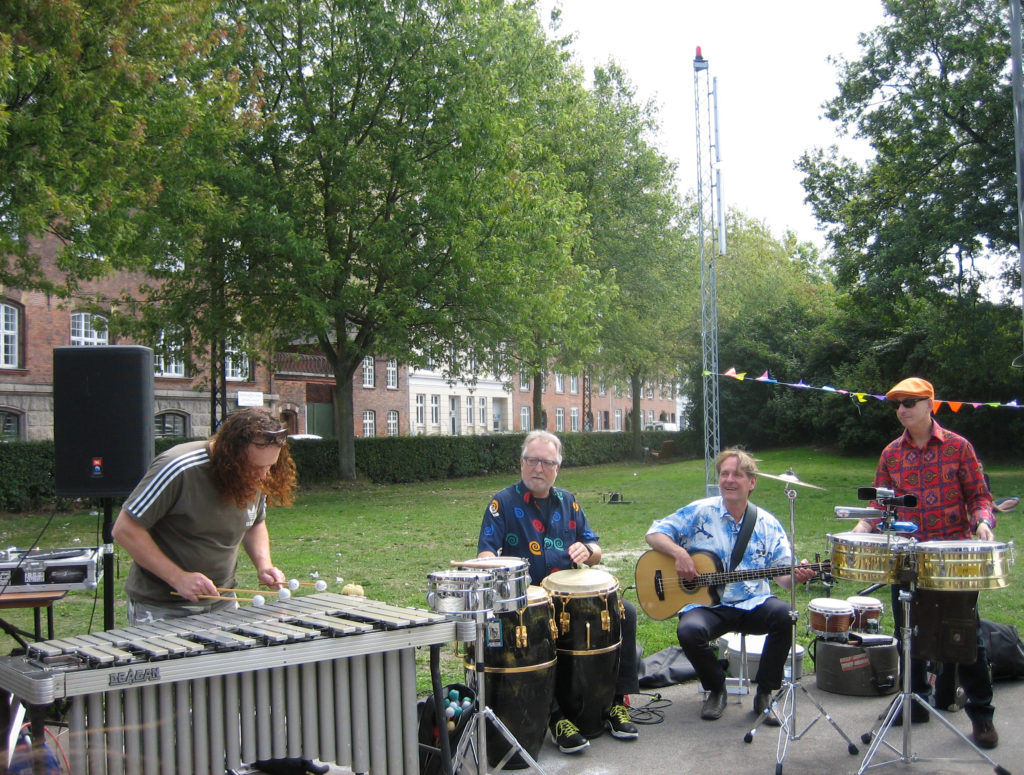 Our history
We all have a long history of playing jazz and latin music both here in Denmark and throughout the world.
We have played together as a quartet for many years, getting together for pop-up concerts all over Copenhagen. The driving force has always been our love for the latin jazz genre, and our love of playing together.
But we wanted more! So Latin Vibes is now a quartet ready to be deployed at any time for your listening and dancing pleasure.
Our mission
Latin jazz Power to the People!
This style of music has the best of it all: beautiful melodies, great arrangements, lots of improvisation, and the hottest rhythms – what's not to like?
Information about the musicians:
Each one of us has a long, extensive and interesting backstory in regard to our lives in both music as well as in other areas.
Here are links to our personal homepages where you are able to read more about us.
Morten Grønvad www.ethnotronic.com
Peter Danstrup www.peterdanstrup.com
Birger Sulsbrūck www.birgersulsbruck.com
Ethan Weisgard www.weisgard.com
Booking
For booking and further information please contact:
Ethan Weisgard
ethanweisgard@gmail.com
Tel.: +45 40 86 32 12